Autumn Goes To Winter, Lsts of Snow Removel Attachments
Autumn Goes To Winter, Lsts of Snow Removel Attachments
The scenery in Northland is beautiful in nature, but traveling after snow has caused great trouble to residents. I think friends from the highway administration unit, it is time to move our "snow removal artifact" out of the warehouse to make preparations!
The skid steer loader equipped with professional attachments is the main force for snow removal in winter, let's take a look at what attachments are available!
Angle Broom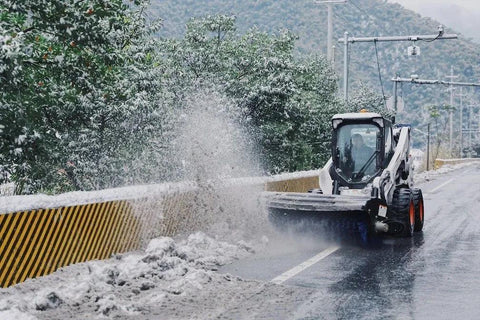 In road cleaning operations, angle broom are often not as widely used as box broom because of dust problems. But in snow cleaning operations, the efficiency of the angle broom is much higher than the latter. The angle broom driven by hydraulic pressure can easily complete the snow removal task whether you are cleaning the roadway, sidewalk, parking lot, loading dock or warehouse.
Snow Pusher 
The snow pusher is an ideal tool for cleaning roadways, sidewalks, parking lots, alleys, service areas and warehouses. Some models can be used as snow pushers with optional wings.